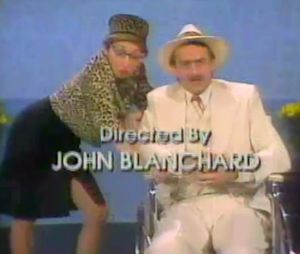 John Blanchard is a Canadian television director who directed The Jim Henson Hour episode "Power."
Blanchard was the primary director on SCTV, from 1980 until 1984. He also directed The Last Polka, an SCTV spinoff special with John Candy and Eugene Levy as their Shmenge Brothers characters, and worked with SCTV alumnus Martin Short on The Martin Short Show and Primetime Glick.
Blanchard later directed Kids in the Hall, MADtv, and episodes of sitcoms Grounded for Life and Wanda at Large.
External links
Ad blocker interference detected!
Wikia is a free-to-use site that makes money from advertising. We have a modified experience for viewers using ad blockers

Wikia is not accessible if you've made further modifications. Remove the custom ad blocker rule(s) and the page will load as expected.