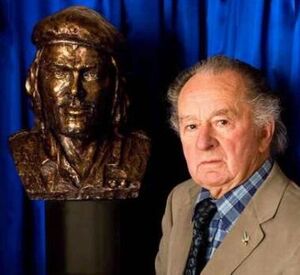 John Blakeley (b. 1946) is a classically trained sculptor who also worked in film, including a stint with Jim Henson's Creature Shop. In particular, he worked on the Ultragorgon in The Jim Henson Hour episode "Monster Maker" and the title characters in Teenage Mutant Ninja Turtles. He also sculpted for The Hispaniola and other sets on Muppet Treasure Island.
Blakeley studied at the Royal Academy and other schools and joined Madame Tussaud's, sculpting such personages as Elton John, Ella Fitzgerald, and P. G. Wodehouse. His other film credits include sculpting on Audrey II in Little Shop of Horrors, Richard E. Grant's other head in How to Get Ahead in Advertising, the ship's masthead and other designs for Pan, a statue of Stalin for Enemy at the Gates, and Hogwarts statuary for the Harry Potter movies.
Creature Shop credits
External links
Ad blocker interference detected!
Wikia is a free-to-use site that makes money from advertising. We have a modified experience for viewers using ad blockers

Wikia is not accessible if you've made further modifications. Remove the custom ad blocker rule(s) and the page will load as expected.