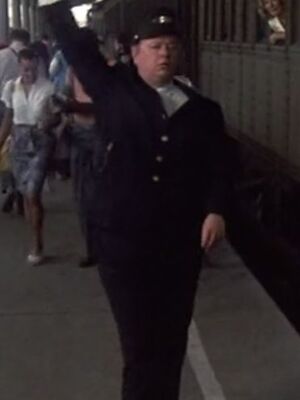 John Bentley is an actor who appeared in The Muppets Take Manhattan, as the train conductor when Miss Piggy takes leave of Kermit at the start of "Saying Goodbye."
A stage veteran, Bentley appeared in national tours and on Broadway, including The Selling of the President (with Pat Hingle), 1972 revivals of A Funny Thing Happened on the Way to the Forum and Lysistrata, and the 1980 revival of West Side Story (as Officer Krupke, and understudying Doc and Lt. Schrank).
In film and TV, Bentley mostly had small parts (bartender, elevator starter, doorman) in The Front (with Zero Mostel), Arthur (with Dudley Moore), The Pope of Greenwich Village (with Daryl Hannah), The Bonfire of the Vanities (with Tom Hanks), and The Paper. His largest role was in the 1988 horror entry The Chair (with James Coco and Paul Benedict), under makeup as a ghostly prison warden. TV credits include Crime Story and Law & Order.
External links
Ad blocker interference detected!
Wikia is a free-to-use site that makes money from advertising. We have a modified experience for viewers using ad blockers

Wikia is not accessible if you've made further modifications. Remove the custom ad blocker rule(s) and the page will load as expected.