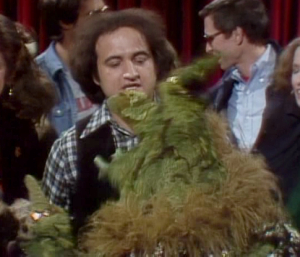 John Belushi (1949-1982) was a comic actor and one of the original stars of Saturday Night Live. Belushi parlayed one of his characters, Jake Blues (with Dan Aykroyd as Elwood), into a motion picture, The Blues Brothers.
Belushi famously referred to the Land of Gorch characters, during their stint on Saturday Night Live, as the "Mucking Fuppets."[1] In the closing of the March 13, 1976 broadcast, the animosity seemingly fueled a final gag. Engaged in an altercation with King Ploobis, who shoves Belushi around, the comedian attempts to throw money at him but later pulls a pocket knife on him. Ploobis escapes unscathed largely due to the intervention of the female cast members.
Sources
External links
Ad blocker interference detected!
Wikia is a free-to-use site that makes money from advertising. We have a modified experience for viewers using ad blockers

Wikia is not accessible if you've made further modifications. Remove the custom ad blocker rule(s) and the page will load as expected.