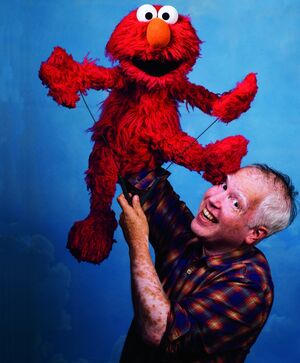 Jogchem Jalink is a Dutch puppeteer who performs Elmo and Angsthaas on Sesamstraat, the Dutch co-production of Sesame Street. 
Along with his fellow perfomer Eric-Jan Lens, Jogchem auditioned for the role of Angsthaas in October 2007 and was trained by Bert Plagman and Kevin Clash. In 2015, he began performing Elmo for the "Elmo's Quiz" segments seen in the Sesamstraat mini-series, 10 voor. 
He is also the puppeteer of Dikkie Dik (a non-Henson character created by Jet Boeke for Sesamstraat) in the musical puppet show Dikkie Dik en zijn Vriendjes (Dikkie Dik and friends) by Dirk Scheele, featuring the illustrated characters as puppets.
Jalink's non-Henson puppetry credits include BiBaBoerderij (alongside Sesamstraat colleagues Renée Menschaar and Daphne Zandberg) and Tita Tovenaar, as well as various work for television and stage performances starring his own puppets. 
Prior to his career in puppetry, Jogchem was seen as one of the Muppet fans interviewed for the nostalgia documentary I Love the Muppets in 2003. 
External links
Ad blocker interference detected!
Wikia is a free-to-use site that makes money from advertising. We have a modified experience for viewers using ad blockers

Wikia is not accessible if you've made further modifications. Remove the custom ad blocker rule(s) and the page will load as expected.