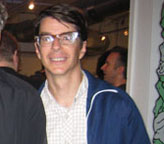 Joey Ahlbum is an animator and owner of the New York-based Ahlbum Animation Studios who has worked on Sesame Street since 1991. For the "Elmo's World" segments, Ahlbum designs and directs the Lecture Lady animated sequences seen on Elmo's TV.
Ahlbum has also animated standalone inserts, such as "Tall Short Texans," and supplied animated effects for the 1992 opening and closing titles for the show. He also contributed animation to another CTW series, Big Bag.
Ahlbum's other work includes serving as a director on the MTV series Daria and collaborating with Mo Willems and others on the 2000 short film Life. Ahlbum has also illustrated for Sesame Street Magazine.
Ahlbum also directed the What a Cartoon! short "Zoonatiks" for Cartoon Network and channel idents for Nickelodeon.
External links
Ad blocker interference detected!
Wikia is a free-to-use site that makes money from advertising. We have a modified experience for viewers using ad blockers

Wikia is not accessible if you've made further modifications. Remove the custom ad blocker rule(s) and the page will load as expected.