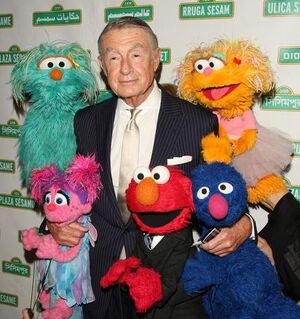 Joel Schumacher (b. 1939) is an American director, writer and producer best known for his films St. Elmo's Fire, The Lost Boys, and replaced Tim Burton as the next director of the Batman films Batman Forever and Batman & Robin. He attended Sesame Workshop's 40th Anniversary Gala (2009), returning in 2010 and 2011.
Schumacher made his directorial debut with the Lily Tomlin vehicle The Incredible Shrinking Woman. His other credits include the screenplay for The Wiz, The Phantom of the Opera, and two John Grisham films, The Client (with Susan Sarandon) and A Time to Kill (with Samuel L. Jackson).
External links
Ad blocker interference detected!
Wikia is a free-to-use site that makes money from advertising. We have a modified experience for viewers using ad blockers

Wikia is not accessible if you've made further modifications. Remove the custom ad blocker rule(s) and the page will load as expected.