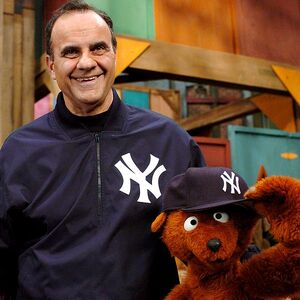 Joe Torre (b. 1940) was the manager of the New York Yankees baseball team from 1996 to 2007 and a former Major League ball player himself.
In a 2005 episode of Sesame Street, Baby Bear enlists Torre to encourage Telly Monster, frustrated by his inability to catch the ball.
Torre also appeared with his 9-year old daughter, Andrea, and Elmo in a "Healthy Habits for Life" segment.
Ad blocker interference detected!
Wikia is a free-to-use site that makes money from advertising. We have a modified experience for viewers using ad blockers

Wikia is not accessible if you've made further modifications. Remove the custom ad blocker rule(s) and the page will load as expected.