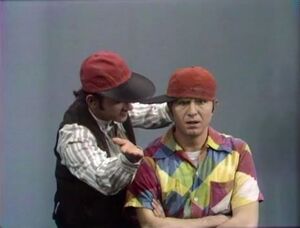 Joe Ponazecki (b. 1934) is an actor who appeared on Sesame Street in the third season as Wally, part of the duo Ralph and Wally. A New York-based actor, Ponazecki is a stage veteran who played Fyedka during the original Broadway run of Fiddler on the Roof (opposite Zero Mostel and Austin Pendleton). In television, he spent much of his pre and postSesame career on soap operas, beginning with Dr. David Thornton on Another World in the 1960s, Reilly on The Secret Storm (1973), an off-and-on run as Lt. Wyatt on The Guiding Light from 1977 until 1994, and two appearances on As the World Turns, playing a minister. Other TV credits include a guest spot on Law & Order and a recurring role on Ed as a judge.
External links
Ad blocker interference detected!
Wikia is a free-to-use site that makes money from advertising. We have a modified experience for viewers using ad blockers

Wikia is not accessible if you've made further modifications. Remove the custom ad blocker rule(s) and the page will load as expected.