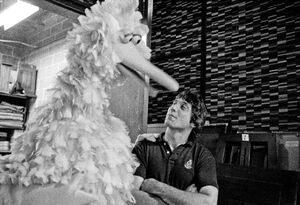 Joe Namath (b. 1943) is a Hall of Fame quarterback who played in the American Football League and National Football League during the 1960s and 1970s. Namath played for the New York Jets for most of his career. He finished out his career with the Los Angeles Rams.
Namath appeared on Sesame Street in 1975, counting down from 10 to 1 in an insert. (EKA: Episode 0780)
External links
Ad blocker interference detected!
Wikia is a free-to-use site that makes money from advertising. We have a modified experience for viewers using ad blockers

Wikia is not accessible if you've made further modifications. Remove the custom ad blocker rule(s) and the page will load as expected.