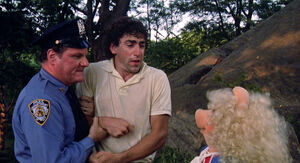 Joe Jamrog (b. 1932) is an actor who appeared in The Muppets Take Manhattan as the cop in Central Park.
Jamrog's credits include Broadway plays such as The Miser and the 1992 revival of On Borrowed Time, as well as off-Broadway. Film credits, generally in small parts (often as law enforcement or doormen), include Arthur 2: On the Rocks (with Dudley Moore), The Front, Christmas Evil (a larger role as a victim of killer Santa Brandon Maggart), The Fisher King (with Robin Williams), and United 93. TV appearances include the Law & Order franchise and The White Shadow.
External links
Ad blocker interference detected!
Wikia is a free-to-use site that makes money from advertising. We have a modified experience for viewers using ad blockers

Wikia is not accessible if you've made further modifications. Remove the custom ad blocker rule(s) and the page will load as expected.