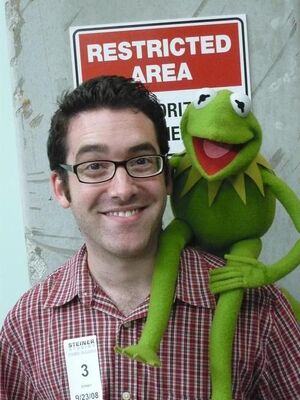 Joe Hennes is a blogger who has worked for Sesame Workshop since February 2012. In 2015, he pitched and co-wrote a parody of Birdman for Mashable, which was co-produced by Sesame Workshop.
Hennes, together with Ryan Roe, has administered the fan blog Tough Pigs since 2007, inheriting the reins from Danny Horn, founder of MuppetZine and Muppet Wiki. He has also written several entries for Sesame Workshop's official blog. [1]
On-camera, Hennes has appeared in the online video "Share It Maybe", and played a superhero-costumed attendee of Numericon in Sesame Street Episode 4504.
Among his contributions for Tough Pigs, he has interviewed Kermit the Frog, Constantine, and several Muppeteers from the red carpet premiere of Muppets Most Wanted.
Ad blocker interference detected!
Wikia is a free-to-use site that makes money from advertising. We have a modified experience for viewers using ad blockers

Wikia is not accessible if you've made further modifications. Remove the custom ad blocker rule(s) and the page will load as expected.