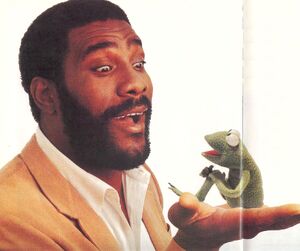 Joe Greene (b. 1946) is an American football player, who played for the Pittsburgh Steelers through the 1970s. A member of the Football Hall of Fame, Greene is nicknamed "Mean Joe Greene," and may be best remembered for a Coca-Cola commercial, which TV Guide has listed as one of the ten greatest commericals of all time.
Greene was interviewed by Robin in the premiere issue of Muppet Magazine.
References
In a Sesame Street spoof of the famous commercial, a football player named "Big Murray" (Gordon) accepts a number 7 from a young fan, whom he rewards with a towel that also has a 7 on it. (EKA: Episode 2358)
External links
Ad blocker interference detected!
Wikia is a free-to-use site that makes money from advertising. We have a modified experience for viewers using ad blockers

Wikia is not accessible if you've made further modifications. Remove the custom ad blocker rule(s) and the page will load as expected.