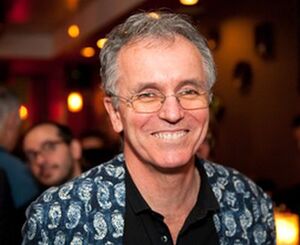 Joe Carroll is a composer who, has worked on multiple Muppet projects, starting with Little Muppet Monsters. Usually teamed with Peter Thom, the pair composed the score and many of the songs for Kermit's Swamp Years. Carroll and Thom also composed together on the sing along video for Muppet Treasure Island (where Carroll was music producer), The Wubbulous World of Dr. Seuss, Bert & Ernie's Word Play, and Sesame English (where they served as music directors).
Carroll also worked on Square One TV (co-writing "8 Percent of My Love" with Christopher Cerf and Sarah Durkee). He composed for Nickelodeon's The Adventures of Pete & Pete, Oswald, and Dora the Explorer, and the Playhouse Disney series Stanley. With Thom, he started the music production company Manic Moose Music.
Songs
External links
Ad blocker interference detected!
Wikia is a free-to-use site that makes money from advertising. We have a modified experience for viewers using ad blockers

Wikia is not accessible if you've made further modifications. Remove the custom ad blocker rule(s) and the page will load as expected.