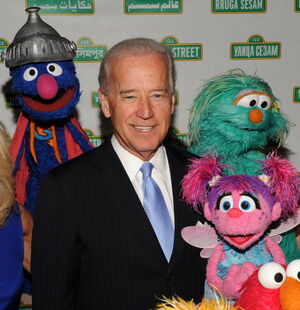 Joe Biden (born Joseph Robinette Biden, Jr. in 1942) is the 47th Vice President of the United States serving under President Barack Obama. Before gaining the office of Vice President, Biden served as a long time United States Senator from Delaware.
Vice President Biden, along with his wife Jill, were honored at the 2010 Annual Sesame Workshop Benefit Gala.
External links
Ad blocker interference detected!
Wikia is a free-to-use site that makes money from advertising. We have a modified experience for viewers using ad blockers

Wikia is not accessible if you've made further modifications. Remove the custom ad blocker rule(s) and the page will load as expected.