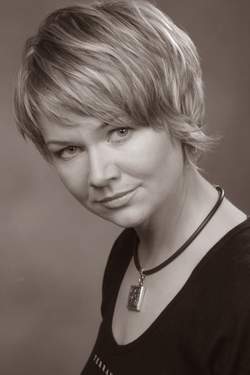 Joanna Węgrzynowska (b. 1971), sometimes known as Joanna Węgrzynowska-Cybińska, is a Polish voice actress who has dubbed Rosita on Bawmy się, Sezamku (Play with Me Sesame), a wisdom tooth on Świat Elmo (Elmo's World), and Jean the Genie in Elmo's Magic Cookbook.
Animation dub roles include Sally in The Nightmare Before Christmas, Dee Dee in Dexter's Labratory, Cinderella, in Shrek the Third, Thumper's mother in Bambi II, and Miss Prissy in Daffy Duck's Fantastic Island, as well as additional voices in Rugrats in Paris, Justice League, and Teen Titans, among others. Live dubbing includes Julie Andrews in Mary Poppins, Uma Thurman in Paycheck, Peta Rutter on Power Rangers: Mystic Force, and bit parts in Stuart Little 2 and Garfield: A Tail of Two Kitties.
External links
Ad blocker interference detected!
Wikia is a free-to-use site that makes money from advertising. We have a modified experience for viewers using ad blockers

Wikia is not accessible if you've made further modifications. Remove the custom ad blocker rule(s) and the page will load as expected.