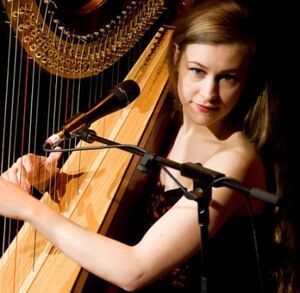 Joanna Newsom (b. 1982) is a singer, musician, and songwriter who supplied the singing voice for Hobo Joe (during "The Muppet Show Theme") in the 2011 film The Muppets.
Newsom plays harp and keyboards and has released multiple albums for the label Drag City since 2004. She married actor Andy Samberg in 2013. She has been a musical guest on several late night talk shows, including Jimmy Kimmel Live and The Late Show with Stephen Colbert.
Ad blocker interference detected!
Wikia is a free-to-use site that makes money from advertising. We have a modified experience for viewers using ad blockers

Wikia is not accessible if you've made further modifications. Remove the custom ad blocker rule(s) and the page will load as expected.