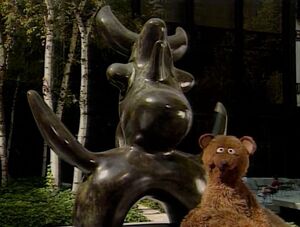 Joan Miró i Ferrà (1893–1983) was a Spanish painter, sculptor, and ceramist born in Barcelona. Considered by some a Surrealist, his scultpure "Moonbird" was featured in episode 3672 of Sesame Street, when Baby Bear visits the Museum of Modern Art. Observing the artwork in the garden, Baby Bear passes Big Bird, who lamets, "Standing still is hard! How do statues do it?"
Ad blocker interference detected!
Wikia is a free-to-use site that makes money from advertising. We have a modified experience for viewers using ad blockers

Wikia is not accessible if you've made further modifications. Remove the custom ad blocker rule(s) and the page will load as expected.