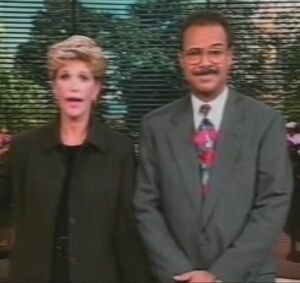 Joan Lunden (b. 1950) is a television anchor known for her tenure on Good Morning America, co-hosting from 1980 until 1997.
In her capacity as Good Morning America anchor, she encountered the Muppets on various occasions, including a February 1988 broadcast with Kermit the Frog and Miss Piggy, discussing their love life.[1]
Lunden was also interviewed for the 1990 special Sing! Sesame Street Remembers Joe Raposo and His Music/ She appeared in the Muppet music video "She Drives Me Crazy" with weatherman Spencer Christian, in a cameo from the Good Morning America set.
Sources
↑ ToughPigs.com "Kermit and Piggy: That Magnificent Hankering, Part Seven." February 7, 2002