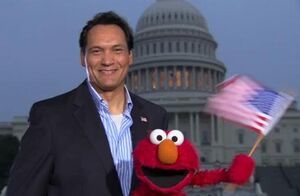 Jimmy Smits (b.1955) is an actor best remembered for his roles on television's L.A. Law, NYPD Blue and The West Wing.
In 2009, Smits hosted A Capitol Fourth, which celebrated the 40th anniversary of Sesame Street, as well as July 4th. Smits appeared with Elmo in a video promotion where the duo sang "Happy Birthday" to the United States of America.
Among his other credits are guest spots on Miami Vice and Pee-Wee's Playhouse, as well as his role as Senator Bail Organa in Star Wars: Episode II - Attack of the Clones and Star Wars: Episode III - Revenge of the Sith.
External links