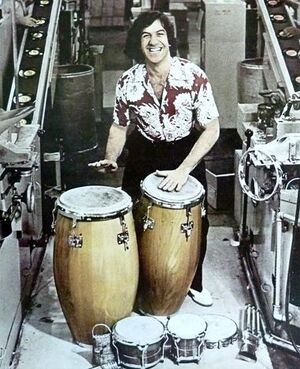 Jimmy Maelen (ca. 1941-1988) was a percussionist, including congas, bongos, and others. He played on two 1978 Sesame Street albums, Sesame Street Fever (on congas) and Fair Is Fair (sharing percussion duties with Phil Kraus).
Maelen began his recording career in the 1960s, including a few singles and work with the Latin Dimension. He soon established himself as a session musician, backing Peter Gabriel (on his 1977 debut album and others), Alice Cooper, Buddy Rich, Tim Curry (his album Read My Lips), Carly Simon, Grace Slick, and Barry Manilow, occasionally contributing background vocals as well. He played percussion on the 1985 David Bowie and Mick Jagger single of Dancing in the Street and on soundtracks for the film Fame and TV series Taxi. Maelen released his only solo album, Beats Workin' , in 1980.
External links
Ad blocker interference detected!
Wikia is a free-to-use site that makes money from advertising. We have a modified experience for viewers using ad blockers

Wikia is not accessible if you've made further modifications. Remove the custom ad blocker rule(s) and the page will load as expected.