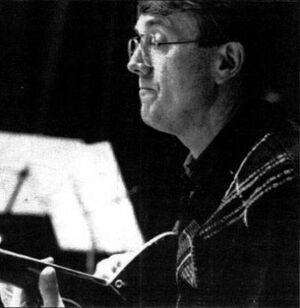 Jim Mitchell (ca. 1936-2016), sometimes credited as Jimmy Mitchell, was a guitarist who was an original member of Joe Raposo's Sesame Street band. He performed on the show for twenty six years, sometimes playing other strings (such as the banjo) as needed. He was interviewed in the 1990 documentary special Sing! Sesame Street Remembers Joe Raposo and His Music.
Mitchell worked with Joe Raposo on other projects, including the soundtrack to the Raposo-scored 1972 film Savages (on guitar and banjo) and The Electric Company. Mitchell was an active session player, backing Tony Bennett on several 1969-1970 singles and the album Tony Sings the Great Hits of Today. A member of various jazz groups over the years, Mitchell later headed his own trio, The Jazz Guys.
Album credits
External links
Ad blocker interference detected!
Wikia is a free-to-use site that makes money from advertising. We have a modified experience for viewers using ad blockers

Wikia is not accessible if you've made further modifications. Remove the custom ad blocker rule(s) and the page will load as expected.