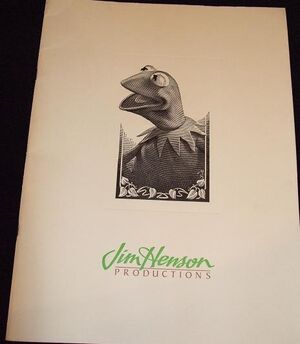 Jim Henson Productions' Company Brochure. A4 paperback, with 30 pages. Features all aspects of The Jim Henson Company's divisions and productions. Sections include:
TV Production, Home Video, Feature Films, Muppet Workshop, Creature Shop, Photo Studios, Muppet Meeting Films, Publishing, Music, Products, Theme Parks and Arena Shows & Outreach. The centre pages open out to a large collage of all the Henson films with a large soundstage picture of the Dark Crystal set in the centre. The opening pages feature a Henson Studios model with opening gates featuring several Muppet/Henson characters created in metal by Lasercraft, designed by Michael K. Frith. Cover illustration by Mark Summers.
Gallery
Ad blocker interference detected!
Wikia is a free-to-use site that makes money from advertising. We have a modified experience for viewers using ad blockers

Wikia is not accessible if you've made further modifications. Remove the custom ad blocker rule(s) and the page will load as expected.