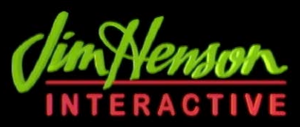 Jim Henson Interactive is a division of the Jim Henson Company, launched in 1994. JHI's stated mission was "the worldwide digital expression of all intellectual properties owned by the organization". As well as working on the development of digital animation systems and services, it was responsible for producing software, including computer games and interactive web sites.
More recent Muppet games and other digital projects have simply been credited to the Jim Henson Company, suggesting the divisional branding is now inactive.
Personnel
Craig Allen served as general manager and executive vice president of the division from 1998, before leaving to form Slappy Pictures, which produced the pilot of Bad Day Bob for the Jim Henson Company, and then becoming CEO of games developer Spark Unlimited.
Eddie Dombrower was employed as vice president prior to Allen.
Michele Martell was employed as vice president of business development.
Kellie-Bea Cooper was employed as an art director for JHI in 1997.
Paige Pooler was employed as an art director.
David Bergantino was employed as a writer and games producer.
Aileen Leijten was employed as a web site designer.
Products
Ad blocker interference detected!
Wikia is a free-to-use site that makes money from advertising. We have a modified experience for viewers using ad blockers

Wikia is not accessible if you've made further modifications. Remove the custom ad blocker rule(s) and the page will load as expected.