Jim Henson Hour Pitch Reel
Talk

0
25,904pages on
this wiki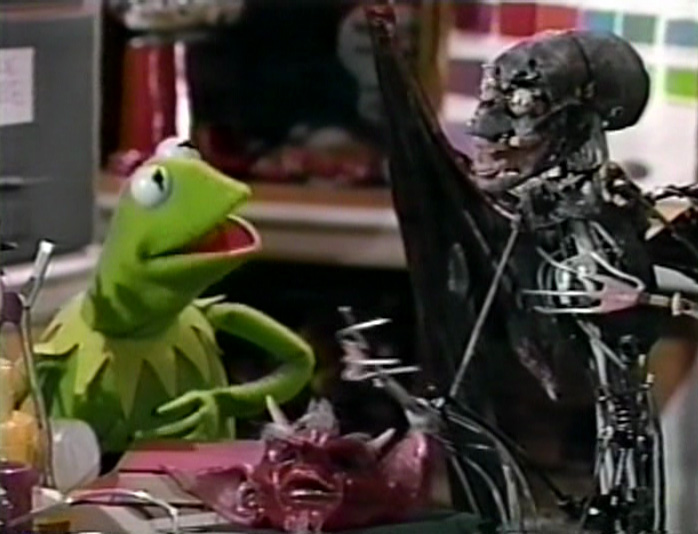 The Jim Henson Hour pitch is a 12½ minute video hosted by Jim Henson from The NY Muppet Workshop. Surrounded by all sorts of Muppet and Creature Shop creatures from previous productions, Henson explains the early concept of The Jim Henson Hour.
The original plan, as Henson explains it, was for the show to have a rotating schedule of four different kinds of episodes; one for each week of the month. The first week would feature a one-hour episode of Jim Henson's The Storyteller. The second week was for Lead Free TV, featuring the characters from the unaired Inner Tube pilot. Henson describes Lead Free TV as "the Muppet Show from the future," full of special effects, rock music, fast-paced comedy and human guest stars. The third week, a Picture Book Special would be featured, in the vein of Emmet Otter's Jug Band Christmas, The Christmas Toy and The Tale of the Bunny Picnic. The fourth week, anything could happen; a detective story with Kermit and the gang, a story about an enchanted bowling ball, an outer space adventure or a look behind the scenes. As Henson describes these four genres of episodes, clips are shown to provide examples of each.
The idea of these four types of episodes was dropped when The Jim Henson Hour was produced. The Storyteller did air as part of the show, but it was in half-hour episodes. Also, although the MuppeTelevision segments of the show as it was actually produced are similar in format to Lead Free TV, the Lead Free characters were replaced by the Muppets; some familiar faces, others new characters.
Cast
Muppets Kermit the Frog, Miss Piggy, Gonzo, Animal, Philo, Right Door Knocker, Jake, Henry, Digit, Crasher, Duke, Glitch, Chet and Babs, Maya Inner Tube Drummer
Background Muppets
Droop, Blustering Bellowpane Monster, a Doozer, The Griffin, Frackles, The Worm, a rat, and a Devil
Performers