Featured roles
Cameos in Henson/Muppet productions
Pictured appearances
Caricatured appearances
Cameos in non-Henson productions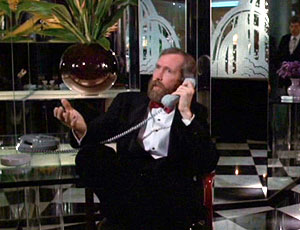 Into the Night is a 1985 John Landis film starring Michelle Pfeiffer, Jeff Goldblum and David Bowie with music by B.B. King. Jim Henson is credited as "Man on Phone" during a scene in which he is talking to a presumably upset Bernie, before he is interrupted and asked to leave. Later in the film, a woman can be heard over the loudspeaker in an airport, paging a Frank Oznowicz to report to the white courtesy telephone.
Ad blocker interference detected!
Wikia is a free-to-use site that makes money from advertising. We have a modified experience for viewers using ad blockers

Wikia is not accessible if you've made further modifications. Remove the custom ad blocker rule(s) and the page will load as expected.