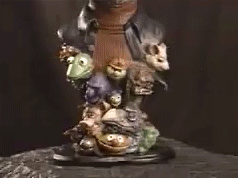 A bust of Jim Henson, sculpted by Anthony Veilleux, was released by G-Force Models in 2000.
The base of the bust consists of characters from various Henson productions including Kermit the Frog, Yorick, two doozers, Ludo, Luke as a mouse from The Witches, The Worm from Labyrinth, Link Hogthrob, Rowlf the Dog, Ernie, the Chamberlain, two goblins from Labyrinth, Baby Sinclair, a podling, the giant from "The Heartless Giant," a devil from "The Soldier and Death," Bunsen Honeydew, Fozzie Bear, Earl Sinclair, Beautiful Day Monster, and one of the Mystics.
"

Jim Henson's work has influenced not only my work but the way I see the world. Sculpting this piece is my way of bringing smiles to the fans of his wonderful worlds, the way his genius has made me smile since I was a kid... and has helped me continue to be that kid.
-Anthony Veilleux, sculptor[1]

"
Sources
Ad blocker interference detected!
Wikia is a free-to-use site that makes money from advertising. We have a modified experience for viewers using ad blockers

Wikia is not accessible if you've made further modifications. Remove the custom ad blocker rule(s) and the page will load as expected.