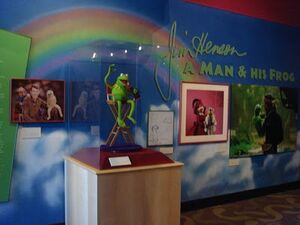 Jim Henson: A Man and His Frog was an exhibit at the Center for Puppetry Arts that opened on July 25, 2007, and was on long-term display until it was merged with the center's permanent exhibition of donated Muppet puppets and props, Worlds of Puppetry, in 2015.
The exhibit's sole Muppet consisted of a poser puppet of Kermit the Frog sitting in his director's chair. Also included was a photograph of Kermit and Miss Piggy as Rhett Butler and Scarlett O'Hara from Gone with the Wind that was taken specifically for the opening of the Center by John E. Barrett, as well as a group shot of a young Jim Henson with cast members from Sam and Friends, on the set of The Muppet Movie and a concept sketch by Henson.
Ad blocker interference detected!
Wikia is a free-to-use site that makes money from advertising. We have a modified experience for viewers using ad blockers

Wikia is not accessible if you've made further modifications. Remove the custom ad blocker rule(s) and the page will load as expected.