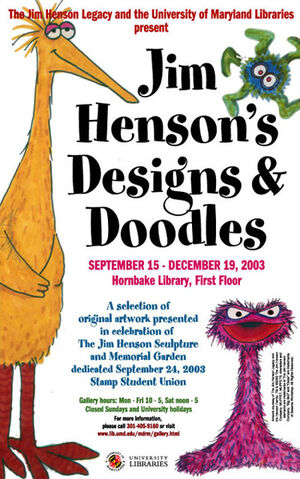 Jim Henson's Designs and Doodles was an exhibit that took place from September 15 to December 19, 2003 at the Hornbake Library of University of Maryland, College Park. The exhibit featured Henson's early artwork, much of which he had created while a student at the university. The exhibit was timed to coincide with the unveiling of the Jim Henson Memorial at the University of Maryland.
See also
Ad blocker interference detected!
Wikia is a free-to-use site that makes money from advertising. We have a modified experience for viewers using ad blockers

Wikia is not accessible if you've made further modifications. Remove the custom ad blocker rule(s) and the page will load as expected.