Jim Henson's Creature Shop Challenge
Talk

0
26,854pages on
this wiki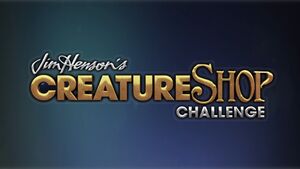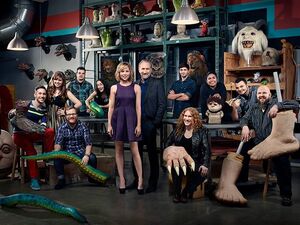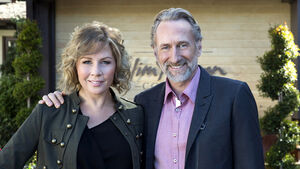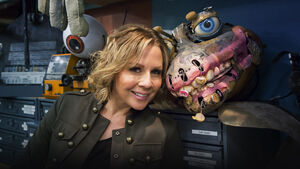 Jim Henson's Creature Shop Challenge is a reality competition show that debuted on SyFy on Tuesday, March 25, 2014 at 10pm ET/PT.
The show, previously announced as The Jim Henson Creature Shop, is based around the Creature Shop in Los Angeles. Hosted by Gigi Edgley (of Farscape fame), the ten contestants participate in challenges involving the different aspects of mechanical creature and puppet building and creation. The contestants will be competing for a $100,000 prize and a contract job for Jim Henson's Creature Shop.
Brian Henson serves as the lead judge on the series along with Creature Shop veteran Kirk Thatcher and Beth Hathaway (former designer at Stan Winston studios, who recently worked on Walking Dead) . Designers Peter Brooke, John Criswell and Julie Zobel serve as mentors on the series.[1][2]
Executive producers include Brian Henson, Lisa Henson, Joseph Freed and Rob Bagshaw.
Description
From Syfy's press release:
"For generations the craftsmen at The Jim Henson Creature Shop have brought to life imaginative, lovable and memorable characters that have enthralled audiences around the world. Now, aspiring creature makers will have an opportunity to win the job of a lifetime – an apprenticeship with the Creature Shop. Teams of amateur creators will face off to build elaborate and awe-inspiring creatures, ranging from animatronic monsters and fantastical puppets, to life-like beasts and beyond! Creations are judged by Brian Henson – son of Jim Henson and Chairman to the Henson empire – along with top industry experts."[3]
Contestants
Ben Bayouth, 25, from Woodland Hills, CA, Freelance SFX Artist.
Chaz Vance, 27, from Collins, NY (currently living in West Falls, NY), Owner of Technically Magic Effects and Sculpture Teacher.
Ivonne Escoto, 35, from Los Angeles, CA, Freelance SFX Artist.
Jake Corrick, 21, from Belle Vernon, PA, Student and Sculptor.
Josh Smith, 27, from Claremore, OK (currently living in Minot, ND), Creature Costumer and Prop Builder.
Lex Rudd, 34, from SE England (currently living in Guerneville, CA), Puppet and Creature Costume Maker.
Melissa Doss, 24, from Big Bear, CA (currently living in Fort Wainwright, AK), Freelance SFX Artist.
Robert Bennett, 29, from Baton Rouge, LA (currently lives in Orlando, FL), Sculptor for Walt Disney Imagineering.
Russ Adams, 41, from Ogden, UT, Owner of Escape Design Effects, Creature Creator and Mask Maker.
Tina Roland, 28, from Doylestown, PA (currently living Hollywood, CA), Freelance Effects Artist.
Trailer
Sources
External links