Jim Henson's Muppets Take the Ice NHL Trading Cards
Talk

0
Share
Ad blocker interference detected!
Wikia is a free-to-use site that makes money from advertising. We have a modified experience for viewers using ad blockers

Wikia is not accessible if you've made further modifications. Remove the custom ad blocker rule(s) and the page will load as expected.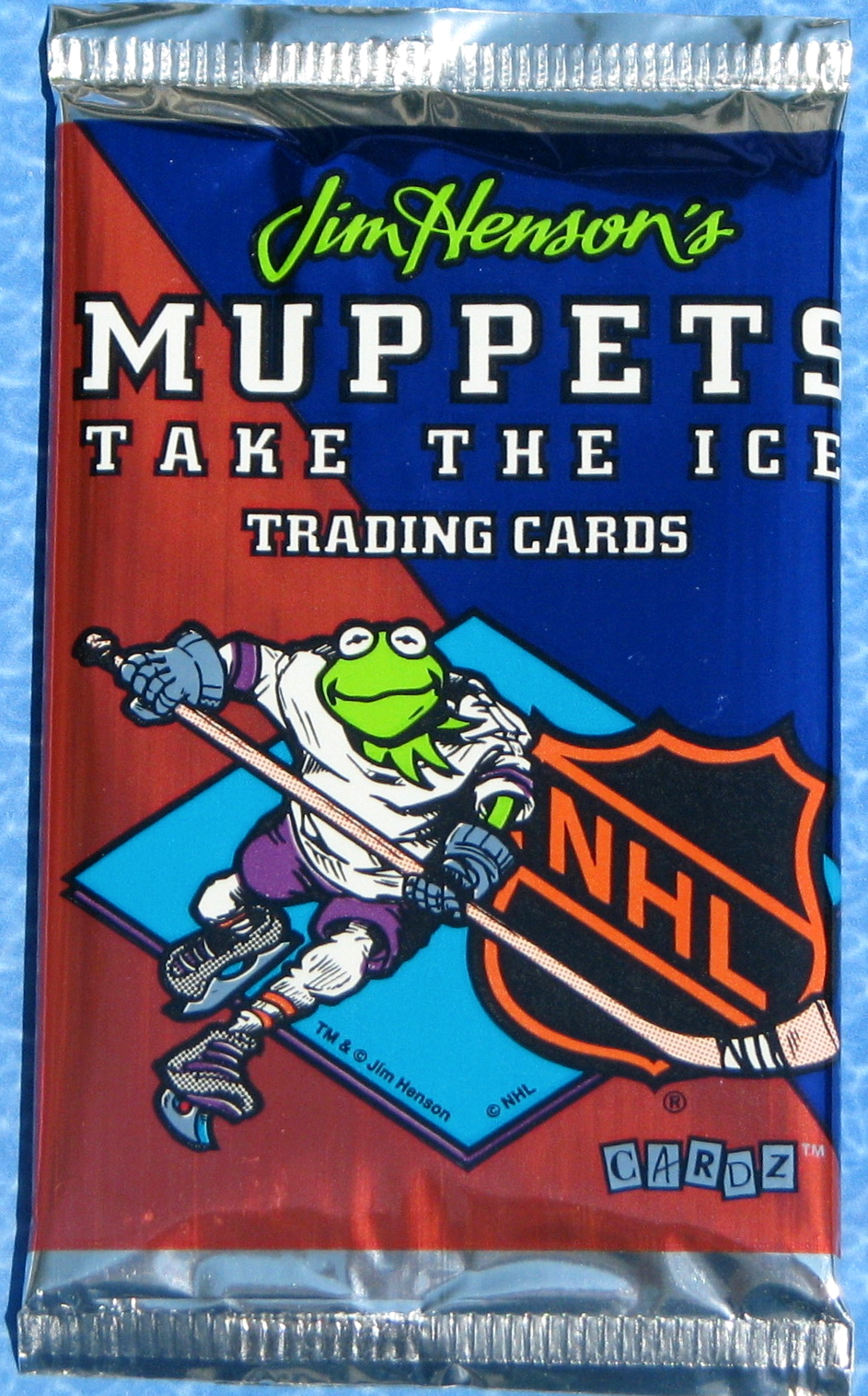 The Jim Henson's Muppets Take the Ice NHL Trading cards were released by Cardz Distribution in 1994. The 80 card set includes cards to explain hockey positions, equipment, and rules, and provide team facts and histories of 26 hockey teams. These were sold in packs of 8, 36 packs to a box.
List of Cards
1. NHL, The Stanley Cup
Positions
2. Center Forward
3. Right Wing
4. Goalie
5. Left Wing
6. Defense

Equipment
7. Helmet (Gonzo)
8. Stick (Animal)
9. Skates (Moi)
10. Puck
11. Pads (Fozzie)

Rules and Definitions
12. Icing (Gonzo)
13. High Sticking (Animal)
14. Pass
15. Tripping
16. Hooking (Animal)
17. Cross-Checking
18. Holding
19. Roughing
20. Pentalty Box
21. Save
22. Check
23. Goal
24. Face-Off
25. Slap Shot
26. Points

Team Facts
27. Mighty Ducks of Anaheim
28. Boston Bruins
29. Buffalo Sabres
30. Calgary Flames
31. Chicago Blackhawks
32. Dallas Stars
33. Detroit Red Wings
34. Edmonton Oilers
35. Florida Panthers
36. Hartford Whalers
37. Los Angeles Kings
38. Montreal Canadiens
39. New Jersey Devils
40. New York Islanders
41. New York Rangers (Miss Piggy)
42. Ottawa Senators
43. Philadelphia Flyers
44. Pittsburgh Penguins
45. Quebec Nordiques
46. San Jose Sharks
47. St. Louis Blues
48. Tampa Bay Lightning (Animal)
49. Toronto Maple Leafs
50. Vancouver Canucks (Fozzie)
51. Washington Capitals
52. Winnepeg Jets

Team History
53. Mighty Ducks of Anaheim (Gonzo)
54. Boston Bruins
55. Buffalo Sabres
56. Calgary Flames
57. Chicago Blackhawks
58. Dallas Stars
59. Detroit Red Wings
60. Edmonton Oilers
61. Florida Panthers (Animal)
62. Hartford Whalers (Gonzo)
63. Los Angeles Kings
64. Montreal Canadiens
65. New Jersey Devils
66. New York Islanders
67. New York Rangers
68. Ottawa Senators
69. Philadelphia Flyers
70. Pittsburgh Penguins
71. Quebec Nordiques
72. San Jose Sharks
73. St. Louis Blues
74. Tampa Bay Lightning
75. Toronto Maple Leafs
76. Vancouver Canucks
77. Washington Capitals
78. Winnipeg Jets

Extras
79. NHL Welcome (Kermit)
80. Checklist

Promo Cards
P1. Goalie
P2. Hooking (Animal)
P3. 1995 Schedule for Chicago Blackhawks (Kermit)