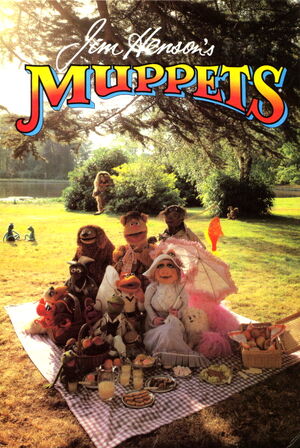 Jim Henson's Muppets Annual (1980) is the fourth of eight Annuals produced in the UK. This 60-page book was published by Grandreams Limited.
Contents
Photo: The Muppet Theatre's Stage Door
Comic: The Mild Bunch (or "How the West Was Done")
Miss Piggy Coloring Page
Animal paper fold fortune
Painting: Kermit the Frog as The Laughing Frog after Frans Hals' The Laughing Cavalier
Painting: Mona Piggy after Leonardo da Vinci
Puzzles: Leap Frog and Chef's Code
Doctor Doctor: Jokes with Dr. Bob
Story: The Mystery of the Long, Black Hair
Kermit's Magic Tricks
Kermit's Magic Mixture: an amalgamation of several Muppets
Outlawed! Starring Miss Piggy
The Mild Bunch, continued
Connect-the-Dots: Kermit in the swamp
Jokes: Bear on Patrol
Animal's Guide to Arts and Crafts
The Collected Correspondence of Fozzie the Bear [sic]
Poets Cornered: poems by Sam the Eagle, Miss Piggy, Lew Zealand, Rowlf the Dog, Kermit, Sweetums, Scooter, and Gonzo
The Mild Bunch, concluded
Puzzle Answers
Kermit says goodbye
Gallery
See also
Ad blocker interference detected!
Wikia is a free-to-use site that makes money from advertising. We have a modified experience for viewers using ad blockers

Wikia is not accessible if you've made further modifications. Remove the custom ad blocker rule(s) and the page will load as expected.