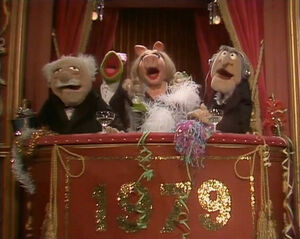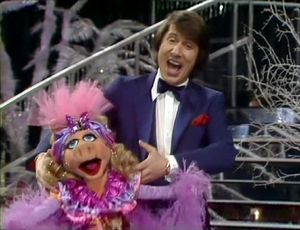 Jetzt geht die Party richtig los ("Now the Party is Really Getting Started") is a New Year's special that aired on German TV channel ZDF on December 31, 1978.
The special is hosted by conductor James Last and features appearances by Kermit the Frog, Miss Piggy, Statler and Waldorf.
The foursome (dubbed in German) appear in the theatre box, joking around, celebrating the occasion and drinking champagne. They refer to the party happening right before their eyes, suggesting their box to be located above the orchestra, in the same ballroom seen before and after the skit.
Miss Piggy also appears on stage, dancing and singing "Es wird Nacht, Senorita" with singer Udo Jürgens. Kermit, Statler and Waldorf are seen cheering her on from above.
External links
Ad blocker interference detected!
Wikia is a free-to-use site that makes money from advertising. We have a modified experience for viewers using ad blockers

Wikia is not accessible if you've made further modifications. Remove the custom ad blocker rule(s) and the page will load as expected.