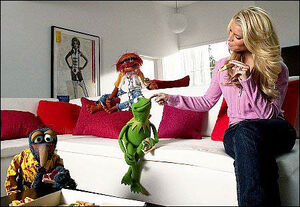 Jessica Simpson (b. 1980) is a singer and actress, who was married to Nick Lachey.
From the Balcony references
In episode 4, Statler and Waldorf criticize Simpson's role in The Dukes of Hazard because she had a speaking part.
In episode 13, Waldorf hears the news of Simpson's split up with Lachey, which he explains to Statler that she will now have "more time to devote to her acting." Both cranky critics cry at the sound of the news.
External links
Ad blocker interference detected!
Wikia is a free-to-use site that makes money from advertising. We have a modified experience for viewers using ad blockers

Wikia is not accessible if you've made further modifications. Remove the custom ad blocker rule(s) and the page will load as expected.