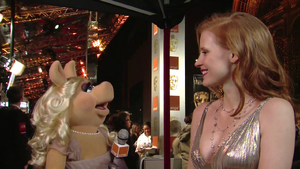 Jessica Chastain (b. 1977) is an actress who starred in the independent film Jolene before her Oscar-nominated supporting role as Celia Foote in The Help. She also received Golden Globe and BAFTA nominations for the same role. She was interviewed by Miss Piggy on the BAFTA Awards red carpet in 2012.
Chastain earned another Oscar nomination, for lead actress, in 2012's Zero Dark Thirty and had starring or co-starring roles inSalome and The Disappearance of Eleanor Rigby (as the title characters in both), Interstellar, The Martian, and Crimson Peak.
Before her movie career started, Chastain appeared on episodes of the TV series Veronica Mars, ER, Law & Order: Trial by Jury (three episodes as an ADA), and Journeyman. She also appeared in the miniseries Blackbeard and on Poirot in the adaptation of "Murder on the Orient Express."
External links
Ad blocker interference detected!
Wikia is a free-to-use site that makes money from advertising. We have a modified experience for viewers using ad blockers

Wikia is not accessible if you've made further modifications. Remove the custom ad blocker rule(s) and the page will load as expected.