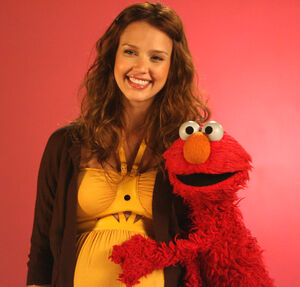 Jessica Alba (b. 1981) is an American actress who first gained attention starring in the television series Dark Angel. She has played roles most prominently in Frank Miller's Sin City and the Marvel Comics film adaptations of Fantastic Four, as well as Never Been Kissed (with Drew Barrymore and David Arquette) and a recurring role on the 1990s television version of Flipper.
Alba appears in Sesame Street Season 39 in a What's the Word on the Street? segment with a Birthday Cake. She also appeared in a Backstage with Elmo segment in which she says her favorite childhood book is Where the Wild Things Are, but that she also likes Dr. Seuss.
Other credits include The Love Boat: The Next Wave, Beverly Hills, 90210, and a guest appearance on MADtv.
External links
Ad blocker interference detected!
Wikia is a free-to-use site that makes money from advertising. We have a modified experience for viewers using ad blockers

Wikia is not accessible if you've made further modifications. Remove the custom ad blocker rule(s) and the page will load as expected.