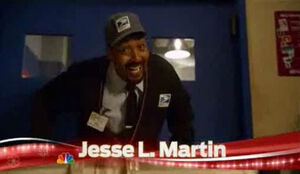 Jesse L. Martin is an actor who has appeared on Law & Order, two seasons of Ally McBeal, a season six episode of The X-Files, originated the role of Tom Collins in Rent and played the character in the film version. He is currently playing Detective Joe West on The Flash.
Martin played a singing postal worker in A Muppet Christmas: Letters to Santa.
Ad blocker interference detected!
Wikia is a free-to-use site that makes money from advertising. We have a modified experience for viewers using ad blockers

Wikia is not accessible if you've made further modifications. Remove the custom ad blocker rule(s) and the page will load as expected.