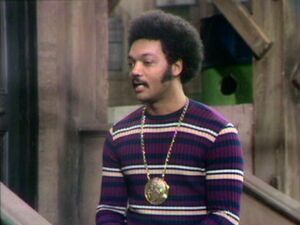 Reverend Jesse Jackson (b. 1941) is a politician, civil rights activist, and Baptist minister. In 1984, Jackson became the second African-American to declare candidacy for the office of President of the United States, following Shirley Chisholm; he ran again in 1988, and in both cases, failed to secure the Democratic party nomination.
In 1971, Jackson appeared on Sesame Street, reciting his poem I Am - Somebody. The clip appears as a bonus segment Old School: Volume 1.
Ad blocker interference detected!
Wikia is a free-to-use site that makes money from advertising. We have a modified experience for viewers using ad blockers

Wikia is not accessible if you've made further modifications. Remove the custom ad blocker rule(s) and the page will load as expected.