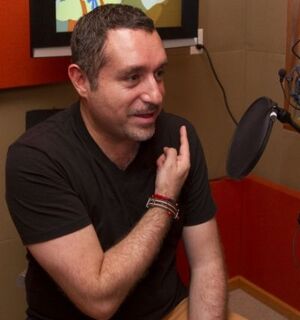 Jesús Guzmán is a Mexican voice actor and comedian who dubbed Walter and Lew Zealand in Los Muppets (2011's The Muppets) and reprised both parts for Muppets 2: Los más buscados. He has also occasionally dubbed characters (including Big Bird) for Plaza Sésamo.
A busy stand-up comedian, Guzmán's best known role to date is as the voice of El Chavo (and his friend Godínez) in the animated El Chavo series (based on TV characters created in the 1970s by comedian Roberto Gómez Bolaños, aka Chespirito). Guzmán has also voiced the animated version of Chespirito's other best known character, El Chapulin Colorado, first in guest appearances or promos and then in a 2015 series. He dubbed Hector David, Jr. on Power Rangers Samurai, Michael Rooker in Guardians of the Galaxy, Terry Perry in Monsters University, Rhino in Bolt, and Bing Bong in Inside Out. He filmed an on-camera, English speaking role in the upcoming film Mind Puppets.
External links
Ad blocker interference detected!
Wikia is a free-to-use site that makes money from advertising. We have a modified experience for viewers using ad blockers

Wikia is not accessible if you've made further modifications. Remove the custom ad blocker rule(s) and the page will load as expected.