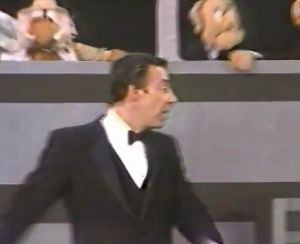 Jerry Orbach (1935-2004) was a Tony Award-winning actor best known for his career on Broadway and for his role as world-weary Det. Lennie Briscoe on Law & Order and episodes of its spinoffs (1992-2005). In 1985, he appeared on Night of 100 Stars during "New York, New York," dancing while the Muppets provided the main vocals.
His other notable credits included the voice of Lumiere in Disney's Beauty and the Beast and films such as Dirty Dancing and Mr. Saturday Night.
External links
Ad blocker interference detected!
Wikia is a free-to-use site that makes money from advertising. We have a modified experience for viewers using ad blockers

Wikia is not accessible if you've made further modifications. Remove the custom ad blocker rule(s) and the page will load as expected.