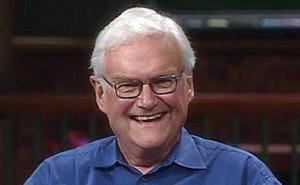 Jerry Juhl Day is September 26, the anniversary of Jerry Juhl's passing in 2005. Fans on the Tough Pigs message board, inspired by his wife's sentiments, have decided that this should be a day to do silly things rather than mourn Jerry's death. The day of recognition was originally proposed in the weeks following his death, but since that time, it has made the most sense to remember it on the actual anniversary of when he died.[1]
After Juhl's passing, Ken Plume wrote a tribute article for IGN Film Force. When he told Susan Juhl that he would be writing the piece, "she had only one request – make it silly."[2]
Jerry Juhl Day is somewhat like a Silly Creature equivalent to the Fraggles' Joke Day.
Sources
↑ Tough Pigs Fan Forum, September 2005
↑ "Juhl in the Crown: Remembering Jerry Juhl", Ken Plume, IGN FilmForce, September 29, 2005
See also
External links
Ad blocker interference detected!
Wikia is a free-to-use site that makes money from advertising. We have a modified experience for viewers using ad blockers

Wikia is not accessible if you've made further modifications. Remove the custom ad blocker rule(s) and the page will load as expected.