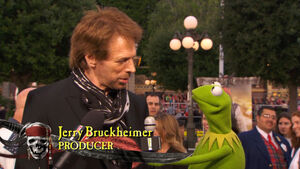 Jerry Bruckheimer (b 1945) is an American film and television producer. He has produced such television and film franchises as CSI: Crime Scene Investigation, Without a Trace, Cold Case, The Amazing Race, Beverly Hills Cop, Top Gun, The Rock, Con Air, Armageddon, Enemy of the State, Gone in 60 Seconds, Pearl Harbor, G-Force, Prince of Persia, Pirates of the Caribbean, and National Treasure.
In May 2011, Bruckheimer approached Kermit the Frog at the world premiere of Pirates of the Carribbean: On Stranger Tides at Disneyland. Bruckheimer asked the famed frog "would you do a film with us?," to which Kermit replied "You bet I would."
External links
Ad blocker interference detected!
Wikia is a free-to-use site that makes money from advertising. We have a modified experience for viewers using ad blockers

Wikia is not accessible if you've made further modifications. Remove the custom ad blocker rule(s) and the page will load as expected.