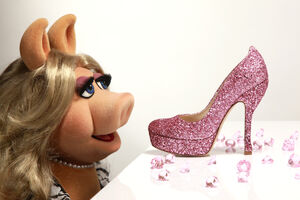 Jerome C. Rousseau is a Canadian high end footwear designer whose creations have been featured in Vogue, ELLE, Harper's Bazaar and more. He has created shoes in collaboration with Disney for Tron as well as stars such as Cameron Diaz and Drew Barrymore.
Rousseau created the Diva Glitter Pump inspired by Miss Piggy. The shoe retails for $595, and will be available in January 2012 at Saks Fifth Avenue.
External links
Ad blocker interference detected!
Wikia is a free-to-use site that makes money from advertising. We have a modified experience for viewers using ad blockers

Wikia is not accessible if you've made further modifications. Remove the custom ad blocker rule(s) and the page will load as expected.