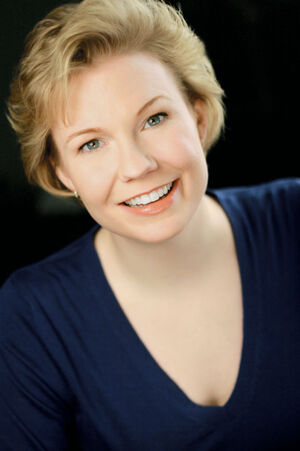 Jennifer Barnhart is a veteran puppeteer who took over the role of Gladys the Cow on Sesame Street. She also recorded vocals for a number of songs, including "Healthy Food Songs" for Season 36 and "Bugs Song" (First: Episode 4175).
Barnhart, who received her BFA in puppetry from The University of Connecticut's Puppet Arts Program, began her puppetry career working on the Animal Planet series "Once Upon a Tree" and subsequently played Cleo the Lion on Between the Lions, before joining the cast of Sesame Street. Barnhart is the only member of the original cast performing on the Broadway puppet musical Avenue Q, continuing her original roles of Mrs. Thistletwat and all-purpose assistant, and understudying the roles of Kate Monster and Lucy T. Slut, until its closing in 2009, returning to the show on November 2013 and leaving in 2015.
For the 2009/2010 Goodspeed production of Emmet Otter's Jug-Band Christmas, Barnhart assumed the role of Madame Squirrel.
Barnhart also performed on John Tartaglia's Johnny and the Sprites.
Online photos indicate that Barnhart will be taking over Zoe following Fran Brill's retirement. [1]
Credits
Sesame Street: Gladys the Cow, Mama Bear, Rosalyn, Karina the Ballerina, Ming, Granny Snuffle, Super Chicken, Yo-Yo (voice only), Mommy Snuffleupagus, Goldilocks (2005), Taylor, Sue Sylvester parody, "Dinner Theatre" Magenta cousin (from "Annie Get Your Gumbo"), Cameo as a mom in Sesame Street Episode 4091
Kinect Sesame Street TV: Gladys the Cow, The Letter Tree
Non Henson Credits
Between the Lions: Cleo Lion, Female Monkeys, Animated Voices
Lomax, the Hound of Music: Delta
Sources
External links