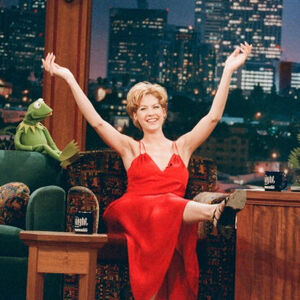 Jenna Elfman (b. 1971) is an actor most well known for appearing in the ABC sitcom Dharma & Greg.
On November 12, 1996 she was a guest on The Tonight Show where she shared a kiss with Kermit the Frog. She also played characters in the Jim Henson's Creature Shop-effects films Looney Tunes: Back in Action and Dr. Dolittle.
Her other roles include Grosse Pointe Blank (with Alan Arkin and Dan Aykroyd), Krippendorf's Tribe (with Lily Tomlin), EDtv (directed by Ron Howard), and Friends with Benefits (with Justin Timberlake and Mila Kunis).
Ad blocker interference detected!
Wikia is a free-to-use site that makes money from advertising. We have a modified experience for viewers using ad blockers

Wikia is not accessible if you've made further modifications. Remove the custom ad blocker rule(s) and the page will load as expected.