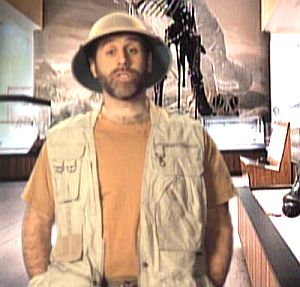 Jeffrey Lampert is an actor who appeared in the third season Dinosaurs episode "The Clip Show II" as Ted, a successful paleontology home-study course graduate.
While working in various minor capacities behind the scenes, Lampert played bit parts in several 1980s movies, including The Twilight Zone: The Movie (as a mechanic in the remake of the classic "Nightmare at 20,000 Feet"), St. Elmo's Fire, Mannequin, and A Fine Mess (with Ted Danson and Howie Mandel). TV appearances (again in small parts as customers, workers, or "Man #1" types) include Alice (with Linda Lavin), Moonlighting (with Bruce Willis), Matlock, Ellen, and the 1995 TV remakes of the Disney movies The Barefoot Executive, The Computer Wore Tennis Shoes, and Escape to Witch Mountain.
By 1996, Lampert had shifted to becoming a TV producer on several more Disney TV movies (airing on ABC), including Encino Woman, Safety Patrol (with Leslie Nielsen), and H-E Double Hockey Sticks, as well as the short-lived UPN series Homeboys from Outer Space.
External links