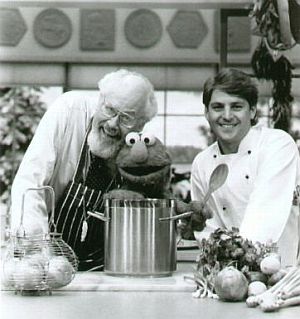 Jeff Smith (1939-2004) was a celebrity chef who hosted The Frugal Gourmet, a PBS cooking show, from 1988 to 1997.
Beginning in 1992, Elmo made periodic appearances as Smith's cooking assistant. His appearances included an episode focusing on kitchen safety and assisting Smith in preparing prawns in 1992, making pizza dough in 1995, and helping with dim sum in 1997. The appearances were often aired during PBS pledge drives under the title The Frugal Gourmet and Elmo, to encourage family viewing.
Smith also appeared on Sesame Street in the early 90s, and can be seen in the celebrity version of Monster in the Mirror.
Ad blocker interference detected!
Wikia is a free-to-use site that makes money from advertising. We have a modified experience for viewers using ad blockers

Wikia is not accessible if you've made further modifications. Remove the custom ad blocker rule(s) and the page will load as expected.