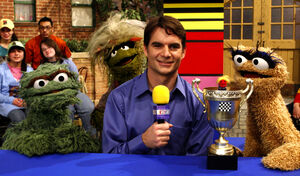 Jeff Gordon (b. 1971) appears in the 40th season of Sesame Street.[1]
Motorsport.com quotes Gordon at a press conference:[2]
"
I mean, the coolest thing was that she got to go with me on set and meet a bunch of the characters, obviously Elmo and Zoe and Abby Cadabby, whatever her name is. She's a big fan of the show, regardless. That was a very cool experience. I wish she had been a little bit older when we were there because I think she would have even appreciated it more today than she did. I shot that thing in January of last year, and it took a long time for it to air.
"
Sources
↑ TV By the Numbers Sept 29, 2009
↑ "Jeff Gordon - Daytona Fan Fest NASCAR press conference", Motorsport.com, January 15, 2010.
Ad blocker interference detected!
Wikia is a free-to-use site that makes money from advertising. We have a modified experience for viewers using ad blockers

Wikia is not accessible if you've made further modifications. Remove the custom ad blocker rule(s) and the page will load as expected.