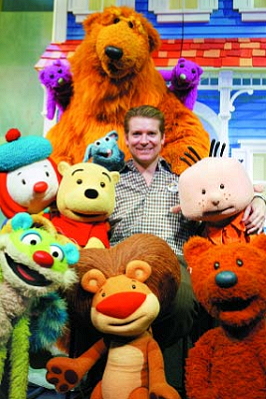 Jeff Conover is the master puppeteer for Disney Entertainment at the Disney theme parks, in charge of casting and coordinating puppetry for the many live stage shows, including Playhouse Disney: Live on Stage. His current title is Designer, Articulated Heads and Puppetry for the Walt Disney Company.[1]
He puppeteered for Henson/Sesame Workshop on Big Bag, filmed in Orlando, Florida, mostly assisting on Chelli. Conover was also one of four performers to operate Bad Andy for the Domino's Pizza commercials.
He also puppeteered on the Disney television series Sing Me a Story With Belle as the voice and operator of Harmony the cat, among others.
Sources
↑ LinkedIn profile, accessed 10/21/09.
Ad blocker interference detected!
Wikia is a free-to-use site that makes money from advertising. We have a modified experience for viewers using ad blockers

Wikia is not accessible if you've made further modifications. Remove the custom ad blocker rule(s) and the page will load as expected.