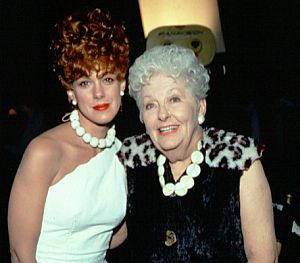 Jean Vander Pyl (1919-1999) was a voice actress best known for playing Wilma Flintstone on The Flintstones. She made a cameo appearance in the Creature Shop-effects film The Flintstones as Mrs. Pyrite, a party guest who gets into a conga line behind Dino.
Vander Pyl began her career on radio, playing Margaret Anderson on the radio version of Father Knows Best and various supporting roles on the Lucille Ball sitcom My Favorite Husband. For Hanna-Barbera, she initially played supporting female foils (often witches or fairy godmothers) to Yogi Bear and Quick Draw McGraw prior to The Flintstones, where she was also heard as baby Pebbles and Mrs. Slate. Subsequent credits include Winsome Witch, Rosie the Robot and Mrs. Spacely on The Jetsons, Ogee on The Magilla Gorilla Show, and Maw and Floral on The Hillbilly Bears.
Vander Pyl's occasional on-camera work included guest appearances on Leave It to Beaver, Petticoat Junction, The Millionaire, and Hardcastle and McCormick.
External links
Ad blocker interference detected!
Wikia is a free-to-use site that makes money from advertising. We have a modified experience for viewers using ad blockers

Wikia is not accessible if you've made further modifications. Remove the custom ad blocker rule(s) and the page will load as expected.